Complacency is a deadly foe of all spiritual Growth (A.W. Tozer)
     Complacency is our worst enemy. Mike Apicello
 I was so very proud of myself. Our youngest Granddaughter was turning three the end of the month and I had already purchased and mailed (through Amazon) a precious gift to her home. We knew we couldn't make the out-of-state drive to celebrate her special day, but I also knew how much she loved receiving packages in the mail. So, I patted myself on my back and felt quite cocky about accomplishing a task that I had earlier in the week thought impossible.
 When the email informed me the present would be delivered almost a full 3-days before Amelia's birthday, I was so pleased with myself that I danced a little jig next to my computer. But, something about the confirmation email bothered me; and I sat back down to my computer to examine my Amazon order document a bit closer. And to my horror, I discovered that I had entered the wrong address in my original order. I even contacted Amazon asking for a rerouting of the gift; but since the item was in transit, nothing could be done.
 I had been so smug and confident with my ability to use the Internet to do all the hard work for me. I didn't have to travel to a store to shop, nor to the post office to mail my gift, and I knew my present would arrive in time for a birthday that had slipped up on me too quickly. But, almost overnight I had been shown the errors of my complacent and my pompous attitude. And I had to admit the error was solely mine. I had been given a chance to proof and correct my error, but I had flippantly overlooked the obviously wrong shipping address.
 There have been many times that I've had the rug pulled out under me when I needed to learn a lesson. Sometimes, I think I can stand on my own two feet and conquer all of life's trifles by myself. But that just isn't true. God's Word constantly humbles me. Only by daily studying the Bible can I control the human desire for self-righteous contentment.
 Proverbs 11:2 teaches "When pride comes, then comes disgrace, but with humility comes wisdom." And Galatians 5:26 instructs "Let us not become conceited…"
 I've ordered another doll for Amelia and have accepted the fact that I should have been more careful in my ordering. I've been humbled, again. And I do realize that even at my age, I am still learning.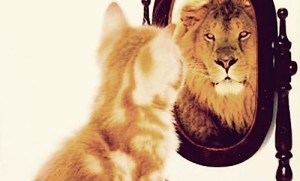 Confidence is good, but Over-Confidence can be hazardous and costly. Meowgy (L) and Lucy (R) are pretty sure of themselves. But a kitten that thinks he is a fierce tiger may face danger without help.